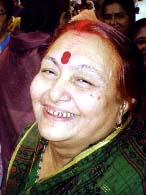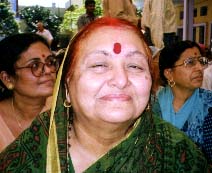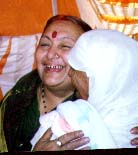 Meditation is very practical. A practical life is what I saw when I visited Mataji, Nirmala Pandit for one week in Bombay about 95. Mataji has
maybe a few thousand devotees in Bombay and other parts of India. She belongs to the lineage of Faqir Baba.

Many of her devotees are very poor - rickshaw wallas and destitute people in general. She also has rich devotees. I never saw her treat them any different from the poor ones. In her home at Juhu Scheme in Bombay she is receiving an endless stream of visitors. At the same time she is an
ordinary Indian grand ma and house wife. She takes care of her grand children and cooks the food for her big Indian family which includes her husband and the husbands brother who was also a Saint, the youngest son with his family, (a famous Bombay TV-film instructor) and the elder son who is working as a Bollywod actor.

How she can overcome all this is a mystery for me. On top of this she also suffers from struma. Her husband is not interested in spirituality, but
he accepts with grace that his home is flooded from visitors seeking Matajis blessing and divine motherly love.

Nirmala Pandit and her whole family were refugees from Kashmir. As Hindu Pandits they had to flee Kashmir by gunpoint about 15 years ago. Militant fanatics through them out of their beloved Kashmir because they were Hindus. Many of her family members were killed by this occasion. She and her family only saved their life because Mataji got a phone call from the Guru in that time in the Faqir Baba line, Manav Dayal, who told her that he had seen in a vision that she had to flee within hours. She and her family obeyed this strange phone call and thus saved their life.
Life is indeed miraculous!